We have been engaged in the development of products in this field from the early period of our history. Various technologies are applied to each of these products. An integrated production line can be constructed by combining individual units.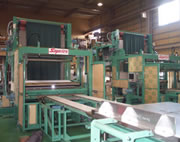 SOYUTEX
Automatic sewing system
Fully-automated unwinding and seaming of fabric rolls and rolls of other industrial materials.
PATENTED
This is the only such technology in the world.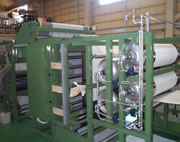 GRANDPRIX
Polishing machine (abrasive & frictional)
This machine sands down fabric surfaces. Pressing amount and line speed can be easily set using an operation panel. Fabrics of consistent quality in a variety of textures can be produced.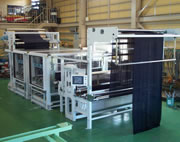 WATERGRANDPRIX Polishing machine
(abrasive & frictional)
In addition to the features of GRANDPRIX, a finer abrasive polishing quality can be achieved by using water.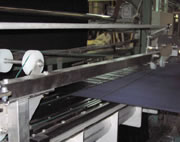 MERCURY
Slit-type dehydrator
Highly efficient vacuum dehydrator with dual-chamber-type dehydration surface. Filters are not necessary.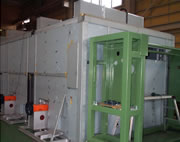 DRYER
Net-type dryer
A special net is employed. The unique meandering-prevention mechanism allows high-temperature multistage drying.
Technological improvements will be continuously implemented in this field. We develop technologies that reduce carbon-dioxide emissions, as well as technologies to promote reusing and recycling.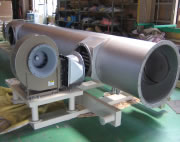 MARS
Waste heat recovery system
Mars, the new face of energy recycling, is based on a waste heat recovery system, and was developed to reduce the burden on the environment, one of the major problems of our time. It uses much of the heat waste that passes out of a factory to produce new energy, and is therefore cost effective. We have succeeded in tar removal, which has been an environmental challenge. Air emitted from heat treatment processes contains a significant amount of tar. Our technology semi-permanently prevents the adhesion of tar to heat exchange equipment.
We are ready to develop products that will improve the quality of diverse automotive interior materials.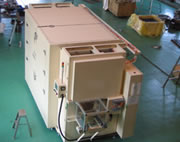 Preheating furnace
The heat charged into a condenser is uniformly applied. Fully automated charging, preheating and discharging are possible.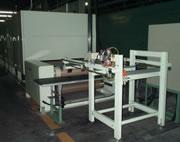 Net dryer
Chambers for drying and cooling are connected. Each slit nozzle can be moved up and down. This movement enables variations in quality.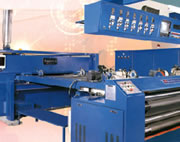 Tenter
A sequence of operations from unwinding to dipping, couching, drying, heat treatment, cutting and winding is performed. A concomitant with high cutting accuracy and automatic loading equipment.
We provide safe, high-quality equipment that keeps pace with the progress of liquid crystal displays in performance, quality and size.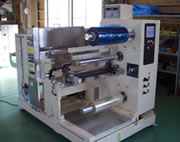 Winder
This machine winds up films, etc. in roll form. Techniques to prevent film wrinkles and displacement are employed.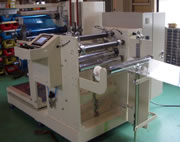 Unwinder
This machine unwinds rolled films, etc. Techniques to prevent film wrinkles and displacement are employed.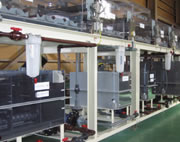 Etching system
This system carries out the etching process—from unwinding to etching, rinsing, drying and winding.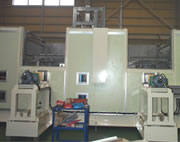 Drying machine
Features uniform temperature distribution. Equipped with high-precision bearings for the rolls.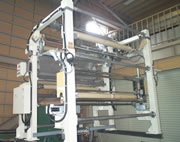 Peeling machine
Accurately aligned with high-precision rolls.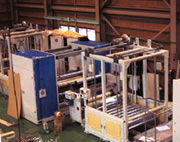 Film conveying system
Features unique, advanced methods for tension control, electronic control and driving.